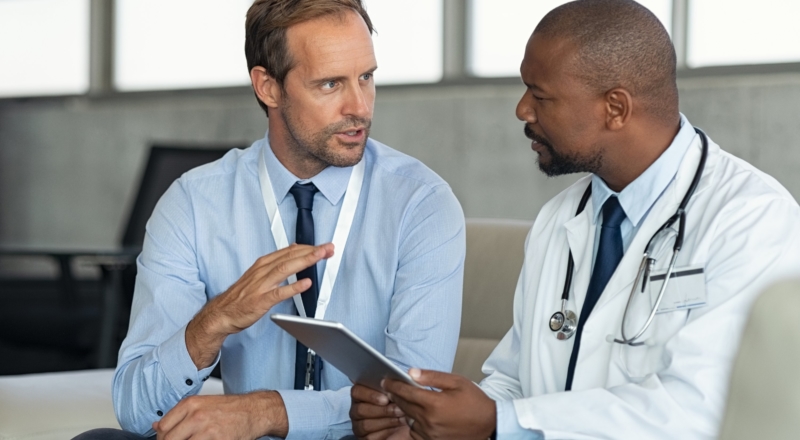 Why outsource your physician claims review process
Apr 01, 2021 | For Providers | Share:
If your hospital is struggling to maintain healthy profit margins, you may want to consider outsourcing your physician claims review process. Utilization management is complicated, and it isn't intuitive to doctors. An outside, experienced utilization management consultant can provide vital perspective and the tools you need to make lasting change.
Utilization management is complicated
There are many pieces that contribute to hospital utilization management. As a result, there are many opportunities for problems. It can be difficult to identify the source of those problems; issues with just one area of utilization management can lead to unhealthy margins in your return.
Your hospital may be getting too many denials or downgraded reimbursements from health plans, causing you to lose money for the care you've already provided. Alternatively, you may find that your hospital is struggling to complete appeals or peer-to-peer reviews. Incomplete physician documentation may be leading to denials, delayed transitions of care, and a too-low case mix index. In all of these cases, your physicians play an important role in utilization management and the payment your hospital receives.
Utilization management isn't intuitive to doctors
While physician behavior impacts your hospital's overall return, physicians are rarely directly trained in utilization management. Physicians go to medical school to learn how to care for patients, not to protect their hospital's profit margins.

Most physicians learn the business side of healthcare while on the job. While your doctors are skilled at providing excellent patient care, they may not fully understand everything that's required for health plan approval. It's also difficult for physicians to constantly stay up-to-date on changing criteria and changing health plan documentation requirements.
One classic example of changing documentation requirements is Medicare's urosepsis rule change. In the past, a diagnosis of urosepsis with fever, tachycardia, and low blood pressure would be considered sufficient for inpatient hospital admission. When Medicare changed the documentation requirements for this DRG, it no longer met criteria. Your physicians have to be able to not only document presenting conditions but also do so in such a way that reflects health plan criteria.
While documentation should be intuitive to doctors, documentation tailored to health plan criteria may not be. Moreover, as doctors continue to experience increasing demands on their time, clinical documentation often suffers.

Diverse utilization management roles among hospital personnel
Diverse personnel contributes to the hospital utilization management process, and everyone has different priorities and different levels of experience.
Hospital administration: Administrators want to ensure that their patients get the care they need at the right time while also ensuring that the hospital gets paid and remains solvent. The hospital can't continue to provide care if they're not being reimbursed by health plans.
Case managers: Most of these essential players are nurses, monitoring and managing patient care and prompting adjustments to documentation to ensure health plan reimbursement.
Coders: These trained professionals ensure that the ICD10 codes are applied appropriately for the correct DRG, based on the clinical documentation.
Physicians and physician assistants: Your physicians are stretched thin with increasing demands on their time and increased levels of stress. The priority of your physicians is providing quality patient care.
While education and training benefit all of these groups, focusing your outsourcing efforts on your physicians and their documentation will positively impact every other group. As physicians improve their documentation, case managers are better equipped to facilitate timely transitions of care and other post-discharge services while coders are enabled to apply the correct ICD10 code. Accurate documentation will reduce overall hospital denials and ensure that the hospital remains profitable and able to provide appropriate patient care.
It's difficult to change utilization management patterns with physicians
Every physician who has counseled a patient to change unhealthy habits knows that it's difficult to change behaviors, especially without external motivation. In the same way, physicians are often unmotivated to change their current documentation practices, even though these changes would have a significant impact on the hospital at large.
Hospital administrators can tell their physicians what to do, but unless there's an incentive, it's difficult to create lasting change. Physicians often need education, equipping, and accountability in order to change established utilization management patterns.
The benefits of an outside perspective
When you outsource your physician claims reviews, you get the benefit of outside, expert perspective. It can be difficult to see your own utilization management problems, especially if they're ongoing or complex. Even hospitals have blind-spots and can be unable to diagnose their own issues.
Outside physician claims reviewers can also provide you with expert consultation. Physician reviewers that have experience with hospitals, health plans, and other third-party review organizations are uniquely able to consult and provide expert assistance. They can also help standardize utilization management processes and provide education to your personnel. When you bring in an outside physician reviewer, you're enabling your internal physician team to focus on what matters most to them: patient care.
You'll often see a significant return on investment from consulting with outside physician claims reviewers. An external physician reviewer can help you recuperate losses through peer-to-peer reviews and appeals. They can also help you improve key areas of utilization management such as reducing your denials and length of stay while increasing your rate of overturned appeals and your case mix index. Finally, training and education from a physician review consultant group can generate a long-term improvement in your hospital return.
If you're thinking about outsourcing utilization management services, consider outsourcing your physician claims review process. Cadenza's team of board-certified doctors can help. Our physician reviewers have extensive experience with hospitals, health plans, and as third-party reviewers. And our experience gets results.

To see how outsourcing your physician claims reviews with Cadenza can improve utilization management at your hospital, request a free consultation with our team.
improve your internal Utilization Management team
Cadenza Health can partner with healthcare organizations of any size.
Contact