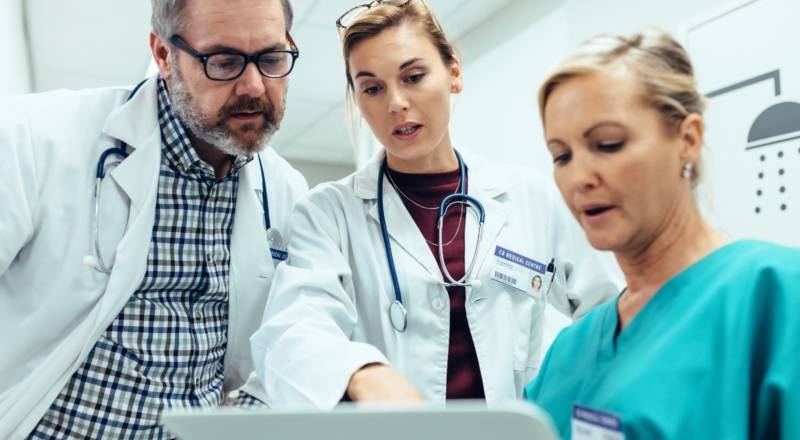 Try this new approach for reducing length of stay in your hospital
May 13, 2021 | For Providers | Share:
When you're trying to reduce the average length of stay in your hospital, you don't want to compromise patient care.
The goal is always to keep patients in the hospital for as long as they need to be there without extending that stay through needless delays. Unfortunately, getting a patient discharged to where they need to be can be cumbersome, inefficient, and ineffective.
Sometimes, you need to try a creative approach to solve difficult and complicated problems in your hospital. If you're looking to reduce length of stay and improve patient experience, try a team approach to case management.
The traditional approach to case management
Your case managers organize complicated care for many patients with multiple different doctors. In most hospitals, case managers are assigned to a floor or wing of their hospital, serving the patients in that geographical area along with their doctors. Case managers work hard to ensure that patients get the care they need at the hospital while also planning for their discharge. Case managers also work to get needed health plan approval, ensuring that clinical documentation supports health plan criteria.

But case managers don't work alone. Social workers work alongside case managers and attending physicians to assess social needs and make determinations for the next level of care for the patients they serve. Social workers also serve as patient liaisons and will often work with many different doctors and case managers.
Physicians, too, may work with several different case managers and social workers as they provide care for their patients. Although this approach to case management is the norm in most hospitals, it can often result in fragmented, frustrating, and inefficient communication and care.
But it doesn't have to be this way.
A team approach to case management
Your hospital can do things differently. Although the traditional approach to case management is the prevailing model, it is not the only model.
The team approach to case management, which can be especially beneficial in larger hospitals, simplifies care and communication by creating teams of one physician or hospitalist, one case manager, and one social worker. In this model, a case manager and social worker manage the care for patients served by one physician, rather than the patients and physicians in one area of the hospital. The case manager and social worker still serve the same number of patients, but these patients all have the same physician.
Rather than working with several different case managers and social workers, each physician only works with one case manager and one social worker, greatly limiting the number of contacts he or she may have to make during the day. This simplifies communication for all parties, and each team can develop preferred processes and methods of communication.
Some case management teams prefer to have daily update meetings at a set time, reviewing patient statuses all at once. Other teams may prefer to have the case manager make rounds with the physician, enabling them to see changes in patient status and communicate with the doctor in real-time, rather than relying on notes and phone calls.
While the foundation of these teams is a physician, a case manager, and a social worker, these teams can expand to include physical therapists, pharmacists, charge nurses, floor nurses, and chaplains. Even an expanded team simplifies communication among parties since everyone on the team knows exactly who to contact with questions or patient updates.
Benefits of a team approach to case management
Reducing length of stay isn't just about getting patients out the door quickly; instead, it's about getting patients the appropriate discharge at the appropriate time. This team approach to case management can help you reduce the average length of stay in your hospital because it improves communication and facilitates more efficient processes that support better patient outcomes.
When physicians, case managers, and social workers can communicate effectively, communication can become proactive rather than reactive. Because of the team's structure, the physician is actually able to talk with their team and understand the big picture affecting their patients. Daily meetings or regular rounds enable team members to give and receive patient updates consistently with minimal hassle. Physicians can make better decisions on behalf of their patients because they're receiving consistent input from their team.
Case management teams are also better able to interpret notes and documentation. When you're communicating solely in notes or messages, important things fall through the cracks. But since a case manager would work with only one physician, the case manager can grow to better interpret that physician's notes and identify documentation that may be missing.
Verbal reminders are powerful. For example, if a patient has been admitted with a possible stroke, a note reminder might typically appear reminding the physician to order neuro checks. In this team approach, the case manager also has an easy opportunity to remind the physician in person, increasing the likelihood that needed orders are carried out on time.
Because current models of case management make communication so difficult, physicians may not be aware of the social issues impacting a patient. Better communication with social workers help physicians make better discharge decisions that are based on social issues that may impact disposition.

When the physician is prescribing expensive medication such as Lovenox or Xarelto to a patient, the social worker can ensure that the patient can actually afford the needed medication. If the patient is uninsured or underinsured, the case manager and social worker can work with the physician to develop creative solutions that better meet the patient's needs.
Frequent communication within these case management teams can improve patient throughput and discharge planning. Because a physician only needs to check in with one social worker and one case manager in a day instead of several, case management teams can get the information they need in a timely manner, preventing delays in discharge. Patients are able to get to the right level of post-acute care at the right time.
Teams can communicate multiple times a day about the same patient if patient needs dictate. If a patient is ready for discharge several hours after the physician rounds, it's much easier for the case manager to contact the physician to release the patient. And after the patient is released, readmissions are less likely because discharge decisions more accurately reflect patient needs.
Case management teams can also facilitate better interactions and communication with health plans. Because the case manager is more involved with the physician caring for individual patients, they also have a deeper understanding of patient cases. These case management teams also make it easier for case managers to get the documentation they need from the physicians to support health plan approval.
Patient care management is complicated, and your typical, existing approaches to managing patient care may be making it more complicated than it needs to be. But sometimes, you need an experienced, outside perspective to see opportunities to improve utilization management.
Cadenza Health has experience with creative solutions for utilization management. Schedule a free consultation today to see how we can help your hospital reduce length of stay while improving patient outcomes.
improve your internal Utilization Management team
Cadenza Health can partner with healthcare organizations of any size.
Contact