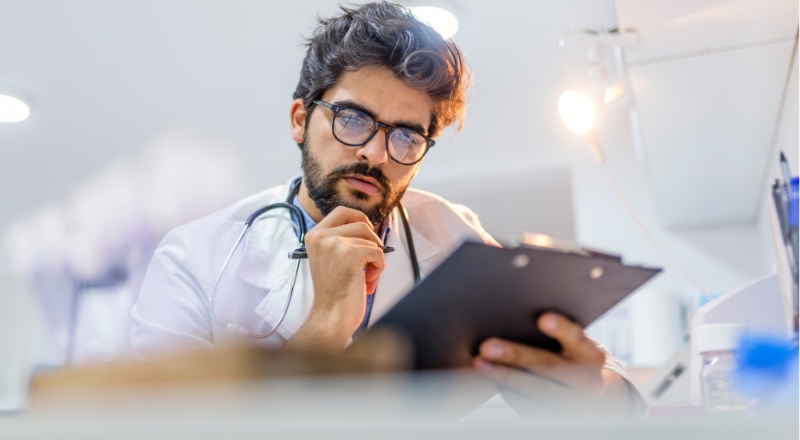 The hidden connection between documentation and denials
Feb 18, 2021 | For Providers | Share:
When you're receiving frequent denials or a reduction in payment for care already provided, it can be difficult to pinpoint the reason. If your physicians are providing appropriate care within the criteria set out by health plans, there's a good chance that you have problems with your documentation. Are your current documentation practices leading to denials or reduced reimbursement?
Why documentation matters
Good documentation is essential to maintaining a healthy return. While maintaining accurate documentation can be frustrating and time-consuming, you simply will not get paid if your documentation is incomplete.
The face sheet and ER note are almost never enough to justify inpatient care. Instead, you need to provide all of a patient's documentation from their entire stay, including progress notes, tests, labs, X-rays, and procedures up until the time of review. The health plan is unable to approve care without the information required to warrant the level of care you're requesting.
Document completely, every time
Even if a patient's condition and issues are clear to the attending physician, every case needs to be documented completely, every time, to communicate these issues to the health plan. Your physicians should not only include major diagnoses, but should also document every problem, lab abnormality, and abnormal x-ray their patients have.
For example, if a patient has pneumonia, the attending physician should not only chart community-acquired pneumonia with respiratory failure. They should also describe the respiratory failure with O2 sats and document any need for supplemental oxygen. If there are other major issues such as renal failure or sepsis with shock, these also need to be documented along with relevant supporting notes.
In addition to documenting major issues, physicians need to provide a complete picture of the patient by including other minor issues such as dehydration, low hematocrit, mental health concerns, and injuries or wounds. The physician should address these in their notes, and add new issues as they come up. All of this documentation is helpful for both health plan approval and improving your patient care.
Good documentation takes work
Your EHR resources may be able to help make documentation easier through prompts and standard notes, enabling your physicians to work smarter, not harder. Many prompts are protocols based on standards of care and can ensure that your physicians document in a way that supports the criteria for a DRG. Unfortunately, if your EHR is cumbersome and difficult to use, it may be leading to poor documentation from your physicians.
A good case management team will prompt their physicians to provide more complete documentation for the care provided, but with increased patient volume and overworked case managers, this doesn't always happen. Documentation cannot solely be the responsibility of a few case managers. In order to manage it well, your entire team needs to practice good documentation habits.
Indicators that documentation might be a problem
Maintaining good, consistent documentation requires constant attention and accountability. Your entire team must understand the need for complete documentation and how to implement it. Where there are gaps in documentation, there will be gaps in reimbursement for patient care.
The following questions can help you identify whether documentation is a problem in your hospital:
Examine your case mix index. Does it accurately represent your hospital? Does your CMI represent how sick your patients really are?
If your case mix index is lower than expected, your documentation may not be capturing the true state of your patients. Physicians need to document all of a patient's diagnoses and issues.
Are your case managers the only ones who care about good documentation?
All of your attending physicians and nurse practitioners need to document completely, every patient, every time. Inconsistent documentation will lead to inconsistent reimbursement.
Do you have processes in place to support good documentation?
Set processes enable your team to incorporate documentation as part of what they're already doing, rather than it feeling like something extra. Build a culture of good documentation in your hospital.
Do you know how to use the EHR to its full potential?
Your EHR can be a fantastic resource for simplifying documentation for your providers.
How Cadenza helps with documentation
Our experienced team of board-certified physicians can help you transform documentation within your healthcare facility. We audit samples of your documentation for targeted diagnoses while also examining internal case management and documentation processes. Once we determine your specific areas of need, we create interventions tailored for your specific facility to improve documentation and documentation habits. We can also help you learn to use your EHR to its full potential.
To see how we can improve your return through improved clinical documentation, request a free consultation with our team.
improve your internal Utilization Management team
Cadenza Health can partner with healthcare organizations of any size.
Contact