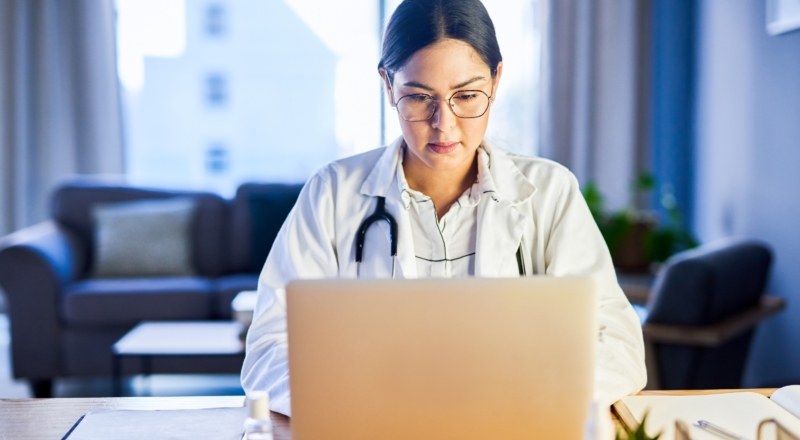 Simplify physician documentation with this easy EHR hack
Apr 29, 2021 | For Providers | Share:
Poor physician documentation is often at the root of many health plan denials. It takes work to maintain good, consistent documentation across the board, and your doctors are already under intense pressure from all sides.
Fortunately, you can use your existing EHR to help your doctors work smarter and provide more complete, criteria-based documentation.
By implementing physician note templates within your EHR, your doctors can simplify documentation, reduce their workload, and improve patient care while still providing the documentation health plans need to approve that care.
Physician note templates
Physician note templates are an easy way to make your EHR work harder for you. There are countless benefits to implementing these templates.

Physician note templates can help you:
Capture better DRGs and use better terminology in your documentation, improving your case mix index.
Standardize documentation while simplifying the process for your doctors.
Take the guesswork out of physician documentation, enabling your doctors to focus on patient care.
Make it easier for your hospital to communicate with health plans.
Templates are one of the easiest ways to simplify physician documentation in your EHR. Most EHRs include standard, software-created templates. Your hospital can also create custom, hospital-wide templates for use by any of your physicians. Individual physician users can also create their own templates. Each of these templates can be applied in a number of ways.
Admit and discharge templates can streamline your admissions and discharges, enabling your doctors to easily document the needed information to justify care.
Progress note templates can also simplify daily documentation for your physicians. Each progress note should include objective data, such as vital signs, H&PE, lab results, and imaging results. These notes should also include a subjective section to provide notes about patient condition, as well as the assessment and plan.
Diagnosis-related templates with order sets ensure that your physicians don't forget to order or chart the relevant lab and imaging results that support the DRG. In possible stroke patients, many health plans require neuro checks every four hours and advanced brain imaging ordered within 24 hours of admission. Sometimes, these simple criteria are not met when a doctor forgets to order the neuro checks or imaging promptly. These omissions increase the likelihood of health plan denials. When these orders are included in a template note, they serve as timely and relevant reminders for your doctors.
Pull-the-note forward
When your physicians invest time up-front in creating a high-quality progress note, future documentation is simplified. The pull-the-note forward feature in most EHRs makes it so that your doctors don't have to start from scratch with their documentation each day.
The physician's previous note serves as its own template for future notes, enabling your doctors to update changes in patient condition without redundant documentation. Notes can be structured so that lab and imaging results will be automatically updated with the most recent results. However, the subjective areas and the assessment and plan are not updated automatically, so it's important to attend to these each day and update these as needed.
Disposition is a key part of the note and can't be neglected. Make sure your physicians are discussing the plan for the patient after discharge with supporting information, as well as social issues that may be inhibiting the patient's discharge. This information is essential for supporting decisions regarding transitions of care.
If it's not used properly, the pull-the-note forward option has the potential for harm. Physicians can unintentionally copy old data, complicating health plan approval or transitions of care. But if used appropriately, this tool can save your physicians time and energy.
Template caveats
While templates can be a valuable, time-saving tool for your physicians, it's important to be cautious of some common pitfalls of templates.
Some templates provide too many irrelevant alerts. Your doctors need to include only the information that's relevant to the current hospitalization in their notes. Consider a patient who has been admitted for acute respiratory failure and pneumonia. This patient may also have diabetes, hypertension, and a heart attack fifteen years ago, but this information may not be relevant for justifying the level of care they're receiving. Additionally, frequent, irrelevant alerts can lead to physicians ignoring the alerts they do need.
You also can't rely on templates alone. These templates are a starting place and help simplify documentation, but templates miss important details. Your physicians must communicate the details that justify the level of care to the health plan. The health plan needs a complete and accurate picture of the patient's condition to approve care.
Templates are never a substitute for intentional, thoughtful physician documentation. Dr. Bradley Shirah, Chief Medical Officer at Cadenza Health says, "Three thoughtful sentences from a physician can be the difference in receiving minimal or full reimbursement from health plans." By using templates to streamline documentation in your EHR, physicians can be better able to more thoughtfully document for better patient care and improved health plan approval.
At Cadenza, we understand that charting is complicated. Doctors are under intense pressure from every side as they document their patient care. Cadenza's team of board-certified physicians can help you transform documentation within your hospital. We audit samples of your documentation for targeted diagnoses while also examining internal case management and documentation processes. After determining your hospital's unique needs, we create tailored interventions to improve documentation and physician documentation habits. We also provide training to hospitals to use an existing EHR to its full potential.
To learn more about how Cadenza can help, request a free consultation with our team.
improve your internal Utilization Management team
Cadenza Health can partner with healthcare organizations of any size.
Contact