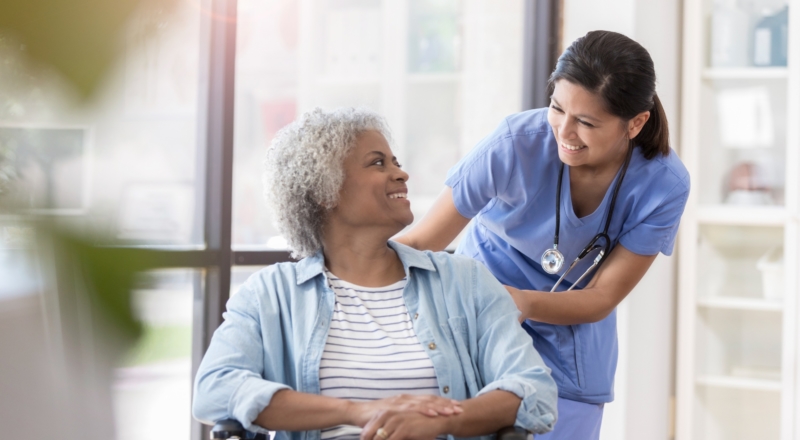 Reduce average length of stay with early discharge planning
May 27, 2021 | For Providers | Share:
Reducing your average length of stay will not only benefit your hospital's bottom line; it will also benefit your patients.
The longer a patient stays in the hospital, the more likely it is that the patient will develop complications during their stay. While you don't want to discharge a patient too soon, you do want to discharge the patient as soon as it's safe to do so without any needless delays.
To avoid delays in patient discharge, discharge planning needs to begin at the time of admission. Early discharge planning will not only help reduce your hospital's average length of stay, but it will also result in better patient care and a reduction in readmissions.
The importance of early discharge planning
Discharge planning should begin the first time your doctors see a patient, whether it's in the ER or at the time of transfer. Since your goal for every patient is to help them transition safely from the hospital, your doctors must begin their patient care with that end goal in mind.
One practical way to do this is to include a discharge planning consultation with the patient's case manager and social worker in the initial order sets. By thinking proactively about a patient's discharge, your doctors can anticipate and work around potential obstacles while planning for the care your patient needs. This planning also makes it easier to tailor clinical documentation so that it supports the discharge and transitions of care.
Avoid discharge bottlenecks
In a perfect world, all patients would be ready for discharge on weekday mornings. Unfortunately, this just isn't reality. Discharges that occur on Friday afternoons or weekends are always a little more complicated, and these tend to be times when discharge is needlessly delayed.
For example, it can be difficult to set up home health for a patient on a Friday evening or a Saturday morning. Similarly, health plan approval for the medications your patients need, such as blood thinners, needs to be established well in advance of discharge, especially if the patient's discharge is going to happen over the weekend.
Patients that are discharged on or around a holiday may face other difficulties. While a patient's family may typically be able to help with their care, a holiday may mean that the family is unavailable or out of town. Your case management team should be aware of these potential complications during holiday seasons and ensure that appropriate help is available to patients discharging home.
Planning for transitional care approvals
Transitional care facility approval can take time. In many cases, you'll need to get approval from the health plan as well as the medical director at the inpatient rehab facility, LTAC, or SNF. These approvals don't happen instantly, and there are just too many moving pieces to wait until the last minute to request these transitions of care.
Early planning for these transitional care approvals also provides margin in the event of denial from either the health plan or the transitional care facility. These transitional care denials are common and are, unfortunately, the reason for many needless delays in discharge.
Planning around a patient's social issues
Effective discharge planning will always include a clear understanding of a patient's social issues. Physicians must communicate with a patient's case manager and social worker to ensure that they have what they need to be safe and well if they are discharging home. Some important social factors to consider:
Transportation: The patient should not only have transportation home but should also have transportation in place for future follow-up appointments.
Help in the home: Does the patient have adequate help at home during the day to ensure that he or she is safe and cared for?
Medications: Is the patient going home with all of the medications they'll need? For example, patients needing supplemental oxygen should go home from the hospital with an oxygen tank so that they don't have to wait on a home health delivery.
Failure to adequately consider a patient's social issues when planning for discharge can lead to dangerous complications and frustrating early readmissions.
Extended discharge planning
Discharge planning doesn't have to end when the patient leaves the hospital. When a member of your team reaches out to a patient in the first 24 hours after discharge, you're able to ensure the effectiveness of your discharge planning and assist with any outstanding patient needs.
In this outreach, your team member can check on the patient to see how they are feeling and answer any questions the patient may have. They can also schedule follow-up appointments, confirm that any DME was delivered on time, and ensure that the patient has the help that they need in the home.
If they do find that there are issues, these are usually easily addressed by the case manager. These short phone calls can have a significant impact as they help reduce readmissions, especially those early readmissions that occur when a patient lacks needed medications or help.
At Cadenza, we understand that your case managers are stretched thin, and it's difficult to do everything well. Your hospital may need outside help to see opportunities for better discharge planning and other strategies for reducing average length of stay.
Cadenza Health partners with hospitals of all sizes to develop better processes for utilization management. Our experienced team of board-certified physicians can audit your processes from admission to discharge and provide retrospective reviews of your patients' charts. We can also round with your physicians and work with case management teams to identify opportunities for improvement and create a solution that's tailored for your hospital.
To see how Cadenza can help you reduce length of stay in your hospital, contact us for a free consultation.
improve your internal Utilization Management team
Cadenza Health can partner with healthcare organizations of any size.
Contact