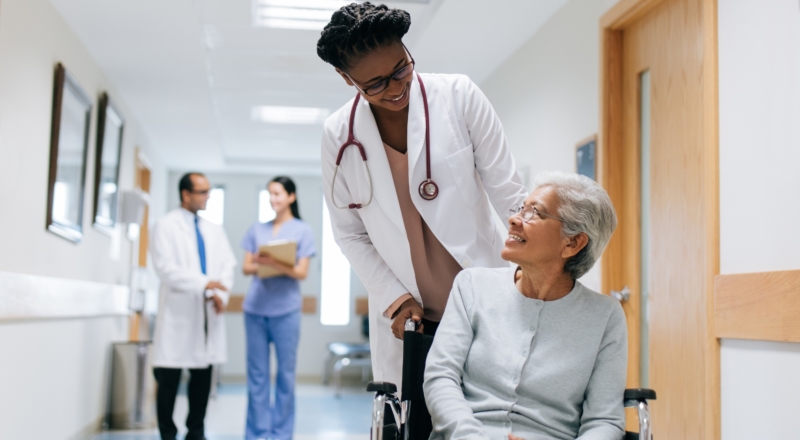 Are denials for post-acute care hurting your average length of stay?
Mar 04, 2021 | For Providers | Share:
Denials will always impact the length of stay for patients who need inpatient rehab, long-term acute care, or a skilled nursing facility, generally adding a minimum of two days to their length of stay. This not only negatively impacts your return, but it also has the potential to negatively impact the patient's recovery.
Patients who stay in the hospital longer than necessary are unable to get the aggressive rehab they need, and they can develop complications such as hospital-acquired infections that can impact their health and future transitions. Your goal is to get your patient back home and back to living their life.
Factors that impact post-acute care denials
There are many factors that can impact denials and timely transitions of care for your patients. Your hospital throughput practices may not support effective transitions of care. In order to transition patients effectively, your team needs to begin planning for patient discharge at the time of admission. Effective management of orders, scans, and procedures will facilitate timely transitions.
You may also need to adjust your processes for requesting transitions of care. Case managers can be trained to look for earlier opportunities to request these transitions, especially to long-term acute care facilities and for rehab facilities.
Poor documentation can also prolong the length of stay for your patients. When requesting a transition of care, the documentation must support the criteria for the requested level of care and demonstrate patient stability. The criteria isn't always intuitive; it's critical that your physicians and case managers know where your patients need to go and the criteria that's required for that transition. By anticipating this transition, your case managers can prompt physicians to document the necessary criteria.
It's also important to avoid making mistakes in the documentation. Physicians often overuse the pull-the-note forward option in the EHR or forget to document the changes to their patient's condition that would support a transition of care. Case managers can also monitor documentation for these mistakes which can lead to denials.
Peer-to-peer reviews and transitions of care
Peer-to-peer reviews can be an effective way of reversing denials that you've received for transitions of care. In fact, you should perform peer-to-peer reviews on every denial you receive for transitions of care. Through these reviews, your physician can justify care by explaining what may be a complicated case to the health plan.
You may have a patient that has a chronic or recurring problem, such as a wound that isn't healing properly after surgery. This patient may have been previously discharged to a skilled nursing facility, but then required readmittance to the hospital for surgery on the wound. While the case may more explicitly meet the criteria for discharge to a skilled nursing facility, the physician may be concerned about encountering this problem again. An LTAC within the hospital may better meet the patient's needs and provide the best opportunity to get the patient discharged and home.
A peer-to-peer review is a perfect opportunity to explain this complicated situation to the health plan. But there needs to be a complete understanding of the criteria for each level of care for these reviews to be effective.
Indicators that transitional care denials might be a problem
Although you won't see many denials for transitions of care, every denial you do receive will increase your average length of stay. When you understand the reason for these denials and implement strategies to prevent them, you're better equipped to care for your patients and facilitate timely transitions of care.
The following questions can help you identify whether transitional care denials are a problem in your hospital:
Does your average length of stay exceed your DRG allowance?Even if the average length of stay is only fractionally longer than your DRG allowance, you're going to lose money.
Do your doctors and case managers understand the criteria for each level of transitional care?
Health plans scrutinize your requests for transitional care, and it's essential that you provide documentation that supports each request you make. To make effective and timely transitions of care, you must understand the criteria as well as the health plans do.
Are you conducting peer-to-peer reviews on all of your denied transitions of care, and do your doctors feel equipped to do these?
Peer-to-peer reviews are often effective in reversing these transitional care denials, but your doctors need to be prepared to do them well.
How Cadenza helps reduce denials for post-acute care
Our team of board-certified physicians has extensive experience with LTAC, inpatient rehab, and skilled nursing facilities. By reviewing your denials for transitions of care, we can determine whether or not these patients could have actually transferred at that time. We then partner with your facility to provide concurrent reviews for all denials that you receive.
To see how we can improve your return through strategies to reduce length of stay, request a free consultation with our team.
improve your internal Utilization Management team
Cadenza Health can partner with healthcare organizations of any size.
Contact